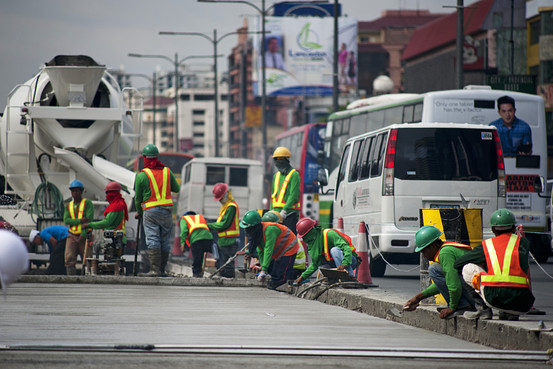 Special Report: Public, private capacities threaten infra plan
MANILA, Philippines – No one seems ready for the Duterte administration's ambitious infrastructure program, not even the private sector.
Agencies have long been tagged as causes of delay in spending, unable to absorb large funds from a reinvigorated government balance sheet. Yet the same problem looks imminent in the private sector.
"We welcome it, but there will be additional costs and there will be cases when one contractor may not be qualified for these projects," said Ibarra Paulino, executive director of the Philippine Constructors Association.
Paulino was pertaining to the government's plan to allow construction of public infrastructure 24 hours a day, seven days a week beginning next year. That way, contractors are expected to finish more work in less time.
Earlier, Budget Secretary Benjamin Diokno said his department was already in the process of crafting new government contracts that would contain such provisions.
But the plan does not look easy as it seems. Aside from "noise" during wee hours and added costs, a key constraint will be the ability of contractors themselves to undertake projects collectively worth P860.7 billion.
According to government data, only 4.12 percent or 321 of 7,778 private contractors are classified under category AAA or those which have capital of more than P19 million and could undertake major infrastructure projects that cost more than P300 million.
The bulk of contractors, around 2,700 of them, were under type D or those which could only build projects worth up to P15 million.
To put into context, the four-kilometer Muntinlupa-Cavite Expressway — a public-private partnership project — already cost P2 billion, which makes bigger projects like railways and airports cost more.
One solution, according to Paulino, would be to form joint ventures and consortia that would have more appetite for risks in pursuing bigger projects.
Astro del Castillo, managing director at First Grade Holdings Inc., agreed. "Given the intent to speed up infrastructure, I think many corporations would be willing to form joint ventures," he said in a phone interview.
"The only problem I see there will be on the determining dividend payouts and of course, companies agreeing equal carrying of risks," he said.
Risk taking could be a deal-breaker itself. For instance, more than a third of blacklisted contractors as of the third quarter were deemed ineligible after they abandoned their contracts in the middle of the project.
Another 25 percent were blacklisted because of negative slippage or delay of more than 15 percent of the time stipulated in contracts, according to Construction Industry Authority of the Philippines (CIAP).
To make it worse, a separate state entity— the Philippine Contractors Accreditation Board — blacklisted two firms for misrepresenting their financial qualifications.
Trade Undersecretary Ruth Castelo, who oversees CIAP, said aside from money, contractors face problems of manpower and equipment that result in project delays and abandonment.
"Money is not a problem for the government so most problems emanate from contractors themselves," she said in a phone interview.
"There are some cases that workers suddenly just leave the project or equipment gets broken that they have to wait for their imports to arrive," Castelo said.
Emergency powers
Budget Undersecretary Laura Pascua also pointed to the contractors as reason why state agencies are having problems in the disbursement of funds.
As of September, more than P200 billion in notices of cash allocation (NCA) remained idle with state agencies. These NCAs are supposed to be exchanged for checks with the Bureau of the Treasury.
Checks, in turn, are used to pay contractors. Once NCAs are utilized will the funds be considered disbursed and recorded in the government balance sheet.
"Agencies are given six months worth of NCAs with monthly breakdowns based on their disbursement programs," Pascua said in a text message.
"If they are late in procurement or have problems in hiring or problems implementing projects, that can cause NCAs for the month to lapse then they have to use next month's allocation," she explained.
One solution eyed is giving the Department of Transportation (DOT), one of the government's infrastructure agencies, emergency powers to skirt procurement processes which they said cause the delays.
The powers, which are still being deliberated in Congress, will last for three years if granted, and will also give DOT access to more private roads to solve Metro Manila's traffic situation.
But with legislature's qualms to give the mandate, Emilio Neri Jr., lead economist at Bank of the Philippine Islands, said the government cannot just rely on the measure to do the trick.
"They cannot put higher spending plans contingent to the grant of emergency powers. I don't think it should work that way," Neri said in a phone interview.
Under next year's proposed budget worth P3.35 trillion, the DOT will get P55.5 billion, or just 1.6 percent of the total outlay. Pascua said this ensures that infrastructure spending will not be affected without emergency powers.
After all, it is the Department of Public Works and Highways (DPWH) which has the biggest bulk of capital outlays for next year, accounting for 38.5 percent of the total.
Specifically, DPWH targets to spend P331.69 billion covering infrastructure projects good for 2017 alone and those programmed to last two or more years.
Paulino said emergency powers would help in right-of-way acquisition that tends to linger even after awarding of contracts. Castelo agreed, but with most infrastructure covered by DPWH, not DOT, Neri is unsure it would help.